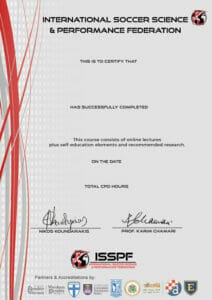 The margin between victory and defeat is small. Nutrition is one of key elements of soccer player preparation where attention to detail can make the vital difference.
The Certificate in Soccer Nutrition course delivers 16 hours of focused training that has been developed by some of the most respected nutritional practitioners and performance experts working within top flight soccer clubs.
This comprehensive course provides you with science-backed nutritional training used at the elite-level of the game, so that you can educate and prepare your players to achieve peak performance and fast recovery.
This course is suitable for:
 Individuals tasked with the responsibility for the training & coaching individual players and teams at all levels.
Individuals with an interest in developing their knowledge and skills in the nutritional preparation, training & development of soccer players and teams at all levels of the game.
The course is comprised of the following:
 16 study hours
Tutor assessed assignment
 Certificate of Achievement